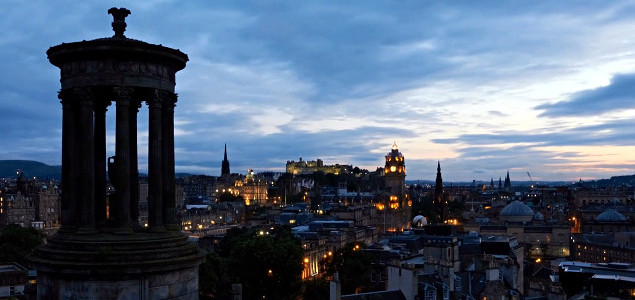 Sustianable Brands: "Scotland Charges Forward in Its Role as the World's 'Circular Economy Hotspot'"
This week, circular economy experts from over 20 countries convened in Scotland as Glasgow hosted the third annual Circular Economy Hotspot. Glasgow used the occasion to announce its intention to become Scotland's first circular city — this will involve Glasgow City Council publishing the country's first circular economy route map with a key target to power 15 percent of the city's homes with renewable energy by 2030.
Scotland is well-known for its leadership on circularity and has spent the past few years mapping out where the best economic opportunities might lie as it looks to make this transition. Speaking at the event, Iain Gulland, chief executive of Zero Waste Scotland(ZWS), said strategy had initially focused on sector-led opportunities, but this had since been dropped in favor of a more regional approach.
"The importance of addressing this at a city level has got the circular economy up and running in Scotland and allowed us to get deeper into communities," he told delegates.
Gulland added that city leaders were more open to engaging in pre-competitive dialogue than, perhaps, businesses — a process that can help accelerate the sharing of best practice. On a strategic level, the circular city movement is also working in tandem with Scotland's zero-waste towns agenda — as Gulland put it, a "bottom-up approach that complements the top-down regional approach."
Scotland currently has four circular economy regions — Glasgow, Edinburgh, Taysideand North East. ZWS's own work suggests that they could collectively benefit from a £1 billion boom created by reducing waste and keeping materials in circulation. In the North East, Aberdeen's offshore oil and gas industry, for example, is exploring opportunities to reuse and remanufacture decommissioned equipment, while Tayside's farming and soft fruit sector is examining how best to put its byproducts to better use.
On the innovation front, plenty of pilot work is taking place. The University of Edinburgh has identified a low-carbon method of gold recovery from electronics that could potentially reduce CO2 emissions by 13,000 tonnes while generating up to £140 million in the reuse and recovery of precious materials.
Meanwhile, manufacturer Highland Galvanizers is extending the safe working life of motorway crash barriers by recoating them before rust sets in, so that the steel is preserved and can remain in use for at least another 25 years. This could deliver savings of £4 million and 8,200 tonnes of CO2 in Scotland's South East region over the typical barrier lifetime.
For the full article click here.
https://ykcenter.org/wp-content/uploads/2018/11/glasgow.jpg
300
635
DigiTale
https://ykcenter.org/wp-content/uploads/2018/10/YK_center_logo-one-line.png
DigiTale
2018-11-06 08:18:11
2018-11-06 08:18:11
Sustianable Brands: "Scotland Charges Forward in Its Role as the World's 'Circular Economy Hotspot'"