The Global GameChangers™ Accelerator
From December 8-15, 2016, YK Center hosted a select group of distinguished global experts in Tel Aviv and Jerusalem at The YK Center Global GameChangers™ Accelerator & Mission to Israel to build on the takeaways from the 2nd Global GameChangers Lab and further examine Professor Yehuda Kahane's call to action.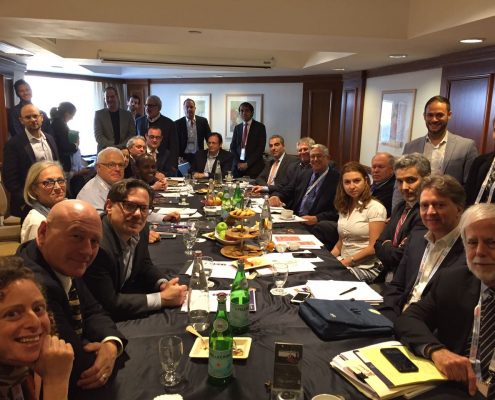 The Mission included participation in key events at the Globes Israeli Business Conference—including a well-attended panel discussion and several private Accelerating Circles—and several fun Circles in Tel Aviv and Jerusalem.
The main takeaways:
Be more explicit in linking projects and enabling platforms to the larger picture of what we're trying to achieve.
The endogenization of positive externalities enjoyed by the commons is critical – if we figure out how to price externalities, everything else will figure itself out. Money is a better long-term motivator than fear so incentivizing must be an inherent component of any solutions.
Let's focus on local strengths and successes with a bottom-up approach. Pick local winners and then replicate.
We need fresh new lean institutions that enable both top-down and bottom-up activities.
Be additive, not duplicative. Develop enabling platforms that create, support and scale existing initiatives. Integration and synchronization, not replication.
We must share with the public the financial rewards earned through sustainable development impact investments.
We must redeploy the financial rewards earned through sustainable development impact investments.
Distinguish between what the world needs and what we can do.
Large capital wants a portfolio for risk diversification.
When you're raising a fund, first decision is "what kind of money are we
"Think Glocally!"
Institutions matter. Technology is good but is not the only solution. Technology must exist within a context of accessibility, humanity & utility.
If our overarching goal is to accelerate the B2T conversation, then we need to do so from bottom up – that's where language comes from.
Emerging from IBC, the growing and increasingly energized team continued to meet over the following days to discuss strategic methodologies for determining where YK Center can radically leverage its resources for greatest impact.
Highlights of the week included fun dining experiences in the ancient Port of Jaffa, the backstreets of downtown Tel Aviv, The Israeli Museum in Jerusalem, the Jerusalem Press Club, and fresh falafel from street vendors while led on a fascinating walking tour of the Old City of Jerusalem, hosted by our resident historian, Prof. Kahane.
We left simultaneously exhausted, energized and inspired.
Acknowledging YK Center Staff
Tal Ronen
Shalom Elcott
Ilan Mandel
Efraim Wyeth
Aviv Ronen
Yossi Behar
2016 Globes Israel Business Conference
The Israel Business Conference (IBC), hosted by Israel's leading business newspaper Globes, is considered the nation's most prestigious business event. The two-day conference, planned in cooperation with the Milken Institute and MIT, is attended by more than 4,000 business, finance and government leaders every year.
The YKC team, led by Prof. Yehude Kahane, Tal Ronen and Shalom Elcott—along with our distinguished guests—descended upon IBC with the mission to:
Convene around the urgent global need to develop and adopt innovative financing mechanisms that mobilize large pools of private and government institutional capital to support impact investments that both support sustainable environmental development projects and provide retirement security for future generations.
Declare a global call to action to national and global business, finance and government leaders to solve these two challenges simultaneously.
IMPACT INVESTMENT: CLIMATE CHANGE, SUSTAINABLE DEVELOPMENT AND INSTITUTIONAL INVESTORS:
Prof. Kahane declared his call to action to a full house during a panel developed jointly by YK Center and the Jerusalem Institute, Milken Innovation Center:
Moderator
Prof. Glenn Yago, Senior Director, Jerusalem Institute, Milken Innovation Center/ Hebrew University of Jerusalem School of Business Administration
Panelists
Prof. Yehuda Kahane, Chairman and Co-Founder, YK Center-Tel-Aviv
Angela Homsi, Director, Angaza Innovation Fund/Ignite Power
Aniket Shah, Program Leader – Financing for Sustainable Development Initiative, New York, UN Sustainable Development Solutions Network
Anat Fire, Head, Investments Division—CapitaL Markets, Savings and Insurance, Ministry of Finance
Dr. Roger Stein, Financial Engineering Laboratory,  MIT
Ronald S. Borod, Senior Counsel, DLA Piper
The panel was followed by a standing–room-only private meeting where we dove more deeply into the subject with a select group leaders from business, finance and. government. Response to both events was overwhelmingly positive and generated a full 2-page spread in Globes: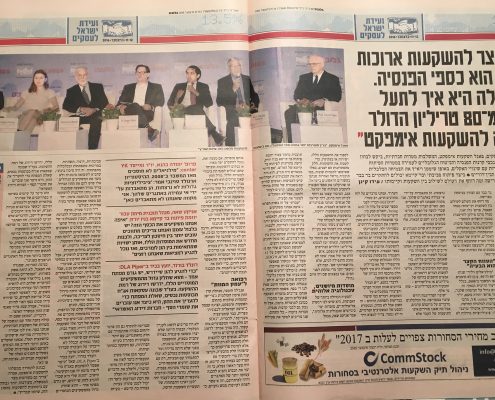 Global GameChangers™ Accelerator
&

Mission to Israel Participants