The Global GameChangers™ Accelerator
From December 8-15, 2016, YK Center hosted a select group of distinguished global experts in Tel Aviv and Jerusalem at The YK Center Global GameChangers™ Accelerator & Mission to Israel to build on the takeaways from the 2nd Global GameChangers Lab and further examine Professor Yehuda Kahane's call to action.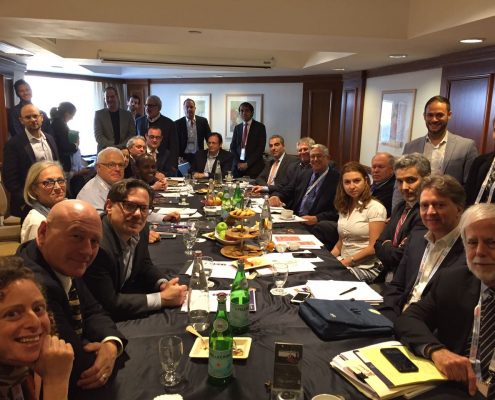 The Mission included participation in key events at the Globes Israeli Business Conference—including a well-attended panel discussion and several private Accelerating Circles—and several fun Circles in Tel Aviv and Jerusalem.
The main takeaways:
Be more explicit in linking projects and enabling platforms to the larger picture of what we're trying to achieve.
The endogenization of positive externalities enjoyed by the commons is critical – if we figure out how to price externalities, everything else will figure itself out. Money is a better long-term motivator than fear so incentivizing must be an inherent component of any solutions.
Let's focus on local strengths and successes with a bottom-up approach. Pick local winners and then replicate.
We need fresh new lean institutions that enable both top-down and bottom-up activities.
Be additive, not duplicative. Develop enabling platforms that create, support and scale existing initiatives. Integration and synchronization, not replication.
We must share with the public the financial rewards earned through sustainable development impact investments.
We must redeploy the financial rewards earned through sustainable development impact investments.
Distinguish between what the world needs and what we can do.
Large capital wants a portfolio for risk diversification.
When you're raising a fund, first decision is "what kind of money are we
"Think Glocally!"
Institutions matter. Technology is good but is not the only solution. Technology must exist within a context of accessibility, humanity & utility.
If our overarching goal is to accelerate the B2T conversation, then we need to do so from bottom up – that's where language comes from.
Emerging from IBC, the growing and increasingly energized team continued to meet over the following days to discuss strategic methodologies for determining where YK Center can radically leverage its resources for greatest impact.
Highlights of the week included fun dining experiences in the ancient Port of Jaffa, the backstreets of downtown Tel Aviv, The Israeli Museum in Jerusalem, the Jerusalem Press Club, and fresh falafel from street vendors while led on a fascinating walking tour of the Old City of Jerusalem, hosted by our resident historian, Prof. Kahane.
We left simultaneously exhausted, energized and inspired.
Acknowledging YK Center Staff
Tal Ronen
Shalom Elcott
Ilan Mandel
Efraim Wyeth
Aviv Ronen
Yossi Behar
2016 Globes Israel Business Conference
The Israel Business Conference (IBC), hosted by Israel's leading business newspaper Globes, is considered the nation's most prestigious business event. The two-day conference, planned in cooperation with the Milken Institute and MIT, is attended by more than 4,000 business, finance and government leaders every year.
The YKC team, led by Prof. Yehude Kahane, Tal Ronen and Shalom Elcott—along with our distinguished guests—descended upon IBC with the mission to:
Convene around the urgent global need to develop and adopt innovative financing mechanisms that mobilize large pools of private and government institutional capital to support impact investments that both support sustainable environmental development projects and provide retirement security for future generations.
Declare a global call to action to national and global business, finance and government leaders to solve these two challenges simultaneously.
IMPACT INVESTMENT: CLIMATE CHANGE, SUSTAINABLE DEVELOPMENT AND INSTITUTIONAL INVESTORS:
Prof. Kahane declared his call to action to a full house during a panel developed jointly by YK Center and the Jerusalem Institute, Milken Innovation Center:
Moderator
Prof. Glenn Yago, Senior Director, Jerusalem Institute, Milken Innovation Center/ Hebrew University of Jerusalem School of Business Administration
Panelists
Prof. Yehuda Kahane, Chairman and Co-Founder, YK Center-Tel-Aviv
Angela Homsi, Director, Angaza Innovation Fund/Ignite Power
Aniket Shah, Program Leader – Financing for Sustainable Development Initiative, New York, UN Sustainable Development Solutions Network
Anat Fire, Head, Investments Division—CapitaL Markets, Savings and Insurance, Ministry of Finance
Dr. Roger Stein, Financial Engineering Laboratory,  MIT
Ronald S. Borod, Senior Counsel, DLA Piper
The panel was followed by a standing–room-only private meeting where we dove more deeply into the subject with a select group leaders from business, finance and. government. Response to both events was overwhelmingly positive and generated a full 2-page spread in Globes: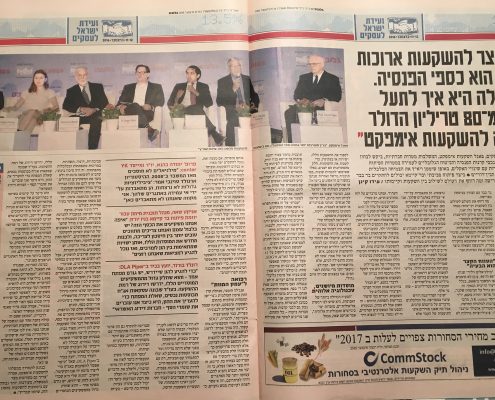 Global GameChangers™ Accelerator
&

Mission to Israel Participants
Glenn Yago
Senior Fellow; Founder, Financial Innovations Lab – Milken Institute  
Dr. Glenn Yago is a senior fellow and founder of the Institute's Financial Innovation Lab. He is a leading authority on financial innovations, capital markets, emerging markets and environmental finance.
Yago's work focuses on the innovative use of financial instruments to solve long-standing economic development and social and environmental challenges. His research and projects have contributed to policy innovations fostering the democratization of capital to traditionally under served markets and entrepreneurs in the United States and around the world.
Yago runs the Milken Innovation Center at the Jerusalem Institute for Israel Studies where he oversees a range of activities devoted to accelerating Israel's economic growth, bridging social and economic gaps, and securing Israel's global competitiveness through financial technology transfer that increases the impact of government policy, philanthropy, and private-sector investment. Yago directs the Milken Institute Fellows Program, which places graduates in internships related to financial reform and economic development projects.
Yago is the founder of the Institute's series of Financial Innovations LabsTM. The labs have been credited with crafting breakthrough financial policies and programs for institutional investors, foundations, development programs and governments that address such diverse problems as urban revitalization, catastrophic risk, affordable housing, small-business financing, water infrastructure, climate change, health care and archaeological site preservation.
Prior to joining the Institute, Yago served as a professor at the State University of New York-Stony Brook and at the City University of New York Graduate Center in the Ph.D. program in economics. He is also a visiting professor at the Hebrew University of Jerusalem.
He is the co-author of multiple books, including "Fixing the Housing Market" (Wharton Publishing/Pearson, 2012), "Financing the Future: Market-Based Innovations for Growth" (Wharton School Publishing, 2010), "The Rise and Fall of the U. S. Mortgage and Credit Markets" (John Wiley and Sons, 2009), "Global Edge" (Harvard Business School Press, 2007), "Restructuring Regulation and Financial Institutions" (Kluwer, 2004) and "Beyond Junk Bonds" (Oxford University Press, 2005). He is also the co-editor of the Milken Institute Series on Financial Innovation and Economic Growth (Springer).
Yago earned a Ph.D. at the University of Wisconsin, Madison.
Prof. Yehuda Kahane
Chairman & Co-Founder, YK Center; Tel-Aviv University (Emeritus)
Professor Yehuda Kahane is an entrepreneur active in both academia and business as well as in the NGO arena, and is a fellow of the World Academy of Art and Science. He is the 2011 recipient of the highly prestigious John S. Bickley Founder's Award for his pioneering and lasting contribution to the theory, practice, and education of insurance and risk management. In 2011 he was also awarded by the Israeli insurance industry for his lifetime achievements. Kahane is a Professor Emeritus at Tel-Aviv University and, until recently, headed the Institute for Business & the Environment. He held executive, teaching and research positions at universities around the Globe, including the Hebrew University of Jerusalem, theUniversity of Florida, theUniversity of Toronto, the Wharton School of theUniversity of Pennsylvania, theUniversity of Texas at Austin, and numerous other institutions. He was the founder and first dean of the (first and only) academic insurance school in Israel, as well as other programs. He had been the academic director of the top executive training program in Israel (Lahav). He is an economist, statistician, Ph.D in Finance and a life and general insurance actuary. He has also been a pioneer in the areas of technological forecasting and IT since the 1960s.
Aniket Shah
Program Leader – Financing for Sustainable Development Initiative, New York UN Sustainable Development Solutions Network (SDSN)
Aniket Shah has been seconded from Investec Asset Management to join SDSN from 2014-2015, where he is the Program Leader of the Financing for Sustainable Development Initiative. At Investec Asset Management, an international investment management firm based in South Africa and the UK, Aniket currently serves as an investment strategist. In this role, Aniket works with the world's largest institutional investors, from both the public and private sectors, to develop long-term portfolio investment strategies with a focus on emerging markets and Africa.
Prior to this role, Aniket worked at The Earth Institute at Columbia University where he served as Special Assistant to the Director, Professor Jeffrey Sachs. In this capacity, Aniket worked on international development projects in Africa, Asia and North America. Prior to that, Aniket was an investment banker at Goldman Sachs & Co, where he focused on mergers and acquisitions in the Financial Services Group.
In late 2013, he released his newest book, Learning from the World: New Ideas to Redevelop America, published by Palgrave Macmillan. Aniket has written for various publications and is often quoted in financial press including Institutional Investor around the world.
Dr. Roger Stein
Financial Engineering Laboratory, MIT
Roger M. Stein has been actively engaged in developing, implementing and writing about new approaches to applied risk modeling and financial prediction for almost 25 years. He and his teams have developed, implemented and delivered products and services that have become industry benchmarks in banking and finance.
He is currently Senior Lecturer in Finance at the MIT Sloan School of Management and also holds the position of Research Affiliate at the MIT Laboratory for Financial Engineering. He is also an Affiliated Researcher at the Center for Risk Management Research, University of California, Berkeley.   His current research interests are in the areas of systemic risk, credit risk, model risk and validation, biomedical funding, and the interface between data mining and financial theory.
In addition to his academic work, he has held a number of senior positions in industry. He was the Chief Analytics Officer at State Street GX, as well as Senior Managing Director of Product Strategy. Before this, he was Managing Director of Research and Academic Relations globally for Moody's Corporation and prior to this he was President of Moody's Research Labs (MRL), a wholly owned subsidiary of Moody's Corporation, where he led a team of researchers and engineers charged with incubating a number of innovative quantitative technologies for assessing credit and other forms of financial risk. The firm's research spanned diverse domains including mortgage-, municipal- and retail-credit risk, microfinance, and systemic risk. Upon reaching maturity, the products and methodologies incubated by MRL were transitioned to other operating units of Moody's Corporation for ongoing production. Stein also headed the Managed Funds group at Moody's Investors Service for several years during which time he introduced new quantitative approaches to various aspects of the ratings process.
In addition to his professional work he is the founder and president of the Consortium for Systemic Risk Analytics and a member of the Advisory Council of the Museum of Mathematics; the Board of PlaNet Finance, USA, and the Academic Advisory Board of the EC's SYstemic Risk Tomography Project (SYRTO).
Dr. Stein holds a Ph.D. and Master's degree from the Stern School of Business, New York University, and a Bachelor's degree in Mathematics and Japanese Studies from the State University of New York at Binghamton, with undergraduate minors in Russian and East Asian Studies.
Mr. John Tidmarsh
Entrepreneur and Investor, Chief Investment Officer at R20
John is Chief Investment Officer at R20 Regions of Climate Action. R20 works with investors, technology companies and governments to create 'bankable' renewable energy, energy efficiency, waste and other sustainable infrastructure projects. John has worked for multinational De La Rue in five countries, and has worked over the past ten years in the finance industry, including corporate finance, private equity and venture capital with a strong focus on sustainable finance and cleantech. John was founding Partner of a venture capital fund in partnership with the European Space Agency and was a Director in the Renewable Energy and Sustainability team at Ernst and Young. John attended the Cambridge Programme for Sustainability Leadership / Climate Leadership Programme at the University of Cambridge and has a BA(Hons) MA and MBA from the University of Cambridge.
Angela Homsi
Director, Angaza Innovation Fund/Ignite Power
Angela Homsi is an international impact investor and seasoned sustainability expert with her experience spanning across multidisciplinary domains of sustainable finance, impact-innovation investing, cross-border investing and conflict resolution.
Her professional focus is sustainable investments in private businesses through her work at Generation Investment Management, an $11 billion investment manager founded by former VP Al Gore & David Blood, as a sustainable impact investor in emerging economies with a keen focus on Africa, Toniic leader for East Africa, Chair of YPO Rwanda Angel Club & EC of the YPO Global Diplomacy network, and investment committee member for Microvest, a fund whose portfolio companies served 4.9 million micro, small and medium size businesses.
Throughout her career, she has made investments across many impact sectors in developed and emerging economies with a sustainability overlay: climate change related, base of the pyramids solutions, water, waste and resource scarcity, healthcare and nutrition.
Previously, she was investing and trading at Goldman Sachs in London and New York. She worked on economic development in Israel and the West Bank with The Portland Trust and is involved with cross-border impact investing ventures between Israel and EM / neighboring countries.
In her non-for-profit work, Angela is is the chair of Seeds of Peace Global Leadership Council. She is also a lecturer and practitioner on conflict resolution, development finance and community bridging through business and leadership – she has been a Middle East conflict resolution expert for Oxford University and has lectured in multiple universities and institutions globally.
Ronald S. Borod
Senior Counsel – DLA Piper
Ronald Borod has worked extensively in securitization and structured finance for over two decades and has established a reputation as a thought leader in the creation of innovative structures and financial products. Ron focuses his practice on assisting issuers and underwriters in designing and implementing securitization programs involving non-traditional asset classes.
For example, in the 1990s, he developed the first national credit tenant lease finance program and the first CTL-only conduit, and designed and executed securitized credit lease programs to provide construction and permanent financing for two national retail companies.
Ron was the architect of and served as Issuer's Counsel and Program Advisor for a national program to securitize legal fees awarded as a result of the 1998 settlement of the state's litigation against the tobacco industry. The first of the transactions under this program, Litigation Settlement Monetized Fee Trust I™ US$308.1 Million Pass Through Certificates, Series 2001-1, was named US Asset-Backed Deal of the Year by the International Securitisation Report. To date, Ron has served as lead counsel on more than US$1 billion of securities backed by over $3 billion of tobacco fee revenues.
Ron also has significant experience in the renewable energy sector in creating capital market structures for wind, solar and energy efficiency projects, as well as carbon emissions allowances and offsets, and has assumed a leadership position in the development of a solar and energy efficiency ABS market He also has been active in the securitization of intellectual property and in whole business securitization.