GameChangers Lab: The Main Takeaways
On June 6-9, 2016, as part of the Sustainable Brands conference in San Diego, YK Center conducted the 2nd Global GameChangers™ Lab as an "undercover think-tank" to deepen the conversation on this profound question.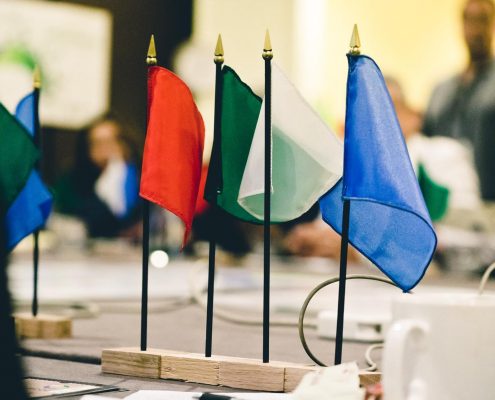 The lab site was created as a TV studio, hosting a distinguished group of world-renowned thought leaders and SME's, and broadcasting live to people around the world. Among these thought leaders were Barbara Marx Hubbard, David Korten, Garry Jacobs, John Fullerton and Mark McElroy (see the full list on the right).
These are the main takeaways from 2nd Global GameChangers™ Lab, San Diego, June 6-9, 2016:
When a culture loses its story, it loses its direction.
Humanity had a "Story of Progress" from the Renaissance onward – we believed that more technology, more knowledge and more freedom would lead to a better world.
That story was destroyed by the two World Wars, the atomic bomb and the beginning of the environmental collapse.
We propose a New Story: Our crisis is the birth of a co-evolving co-creating Humanity!
We are looking for the answer to our founding question: "How are we going to get from where we are today, to where we need to be… All 7.3 billion of us?"
The main challenges:- We are using 1.6 planets. How many should we use?- We are just one species and we are the custodians of all Life on this planet – maybe we should just use half a planet?- Businesses & organizations are flying blind – the dashboards & reporting systems they use are hiding the truth from them!- The truth: Most of mainstream commerce in the world is unsustainable and most of the unsustainable environmental impacts are attributable to commerce.- We need a new way to measure the financial, social, environmental & human impacts of every investment- We need a 4D global dashboard to to track & measure 4D ROI of impact investments
We are the first generation to know that the global transformation we are going through is not a failure – it is the birth of a new species!
We need about $3.9T to meet the 17 UN Sustainable Development Goals (UPDATE: based on information from the UN Global Compact Summit, NYC, June 22-23, 2016 – this number is now $5-7T per year)
The global insurance companies and pension funds manage a portfolio of roughly $80T, which is our money!
We are calling for a planetary campaign to mobilize the people whose pension money it is to demand it!
Intentions, Outcomes and Commitments
Our goal is to have an appropriate percentage of the $80T portfolio managed for us by global insurance companies and pension funds allocated annually towards 4D investments in a transparent, efficient & effective way, starting in the year 2020.
Our intentions are to bring about the needed solutions that will close the gap between our current Old Economy paradigm to the New Economy.
The Global GameChangers™ Lab is a yearly gathering of global thought-leaders and Subject Matter Experts (SME's) that collaborate on solving the "unsolvable" issues of our time from a global viewpoint.
Our purpose is One: To Impact the predictable future and change it from Survival – through Sustainably – to Thrivabilty!
Since the 1st Global GameChangers™ Impact Lab our actions are focused on:
Bringing together collaborative networks & organizations.
Various models of GameChangers™ Impact Labs.
Development & Design of the 4D economy Dashboard model.
Our core question:
How do we get from where we are today, to where we need to be… All 7.3 billion of us?
This is the single most important question of our time, as presented to world leaders at the 2014 UN Climate Summit in New York in the short video "What's Possible?"
Thank you for being a part of this incredible journey!
Tal Ronen, President, Co-Founder & Lead Game Changer
Dror Pockard, Chief Impact Officer
Ilan Mandel, Producer
Ef Wyeth, Assistant Producer