SDGIsrael is YKCenter's Impact project. As a member of the UNGC, YKCenter "Makes global goals local business". Our focus is to take Israel's innovation, start-up know-how and to leverage our solution providing power to solve the world's most pressing issues and bring forward game-changing players to the global game. The mission statement of SDGIsrael is bringing Israel to the SDGs and bringing the SDGs to Israel.  
The SDGIsrael site makes available materials in data in Hebrew about the SDGs, maps out organizations and companies accelerating the SDGs and allows people to connect with SDG related ventures, events, news and more! Visit our brand new site here. Please note, the site is in Hebrew.
We focus on moving an organization from purpose to impact. With "4 Dimensional" (4D) methodology, we take into account environmental, social, economic and consciousness factors into assessing impact. We help organizations to transform their understanding and their actions to be aligned with the Sustainable Development Goals.
Our advanced 4D Labs are in-depth workshops that unlock people's genius. We align people with what is needed in the world and accelerating consciousness to help move from purpose to impact. In our labs, we work with up to 50 people at a time and through a methodical, intellectual and experiential process we craft a new and unique group equipped with the knowledge and understanding to be successful in the new economy. 4D labs "superglue" people together into a coherent group and give meaning to their work.
Contact us to learn more about our 4D labs and opportunities for you or your organization.
The Briefing
Since the beginning of our work, we have always aimed at impacting decision-makers and shaping their strategies to be aligned with the SDGs. The Briefing is an intensive meeting where we bring together executives, decision-makers and leaders to hear and learn about the SDGs. This meeting takes place in the heart of Tel Aviv, in the innovation center and inspires businesses to take action, rethink, and reshape their vision for the future. To learn more about our upcoming briefing (20/2/20) please click here.
Israel and the SDGs
To understand Israel's effect on the SDGs and the planet, we give the following recommended sites, comparing different metrics.
Global Footprint Network
Israel's global ecological footprint is measured by many different organizations. We choose to work with the Global Footprint Network.
Global Footprint Network is an international nonprofit organization founded in 2003,
they envision a future where all can thrive within the means of our one planet by making ecological limits central to decision-making.
The latest report on Israel has recently been written by Special Envoy to Climate Change and Sustainability, Amb. Gideon Behar. Click here to read more.
Below, Israel's ecological footprint measured by GFN: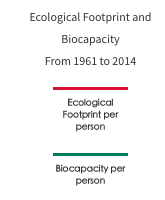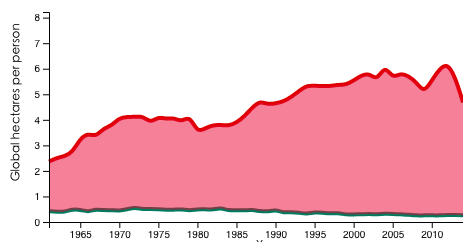 For more data about Israel's footprint click here
Gapframe
From the Gapframe website:
The Gapframe identifies a "safe space for all of us" and serves as a basis for multi-stakeholders to address these Grand Challenges, by sector, across industries, for an enterprise or as a responsible management educator, building on the "outside-in" perspective of true business sustainability. This tool reflects a multi-sector research effort spanning across 155 countries and 24 Grand Challenges, including national priorities.
The GAPFRAME translates the Sustainable Development Goals (SDGs) into four sustainability dimensions: planet, society, economy, governance, enclosing 24 issues and 68 underlying indicators. The 24 Grand Challenges are assessed for 190 countries, 22 regions and the world.
Below, find Israel's Gapframe measurement to see how Israel compares: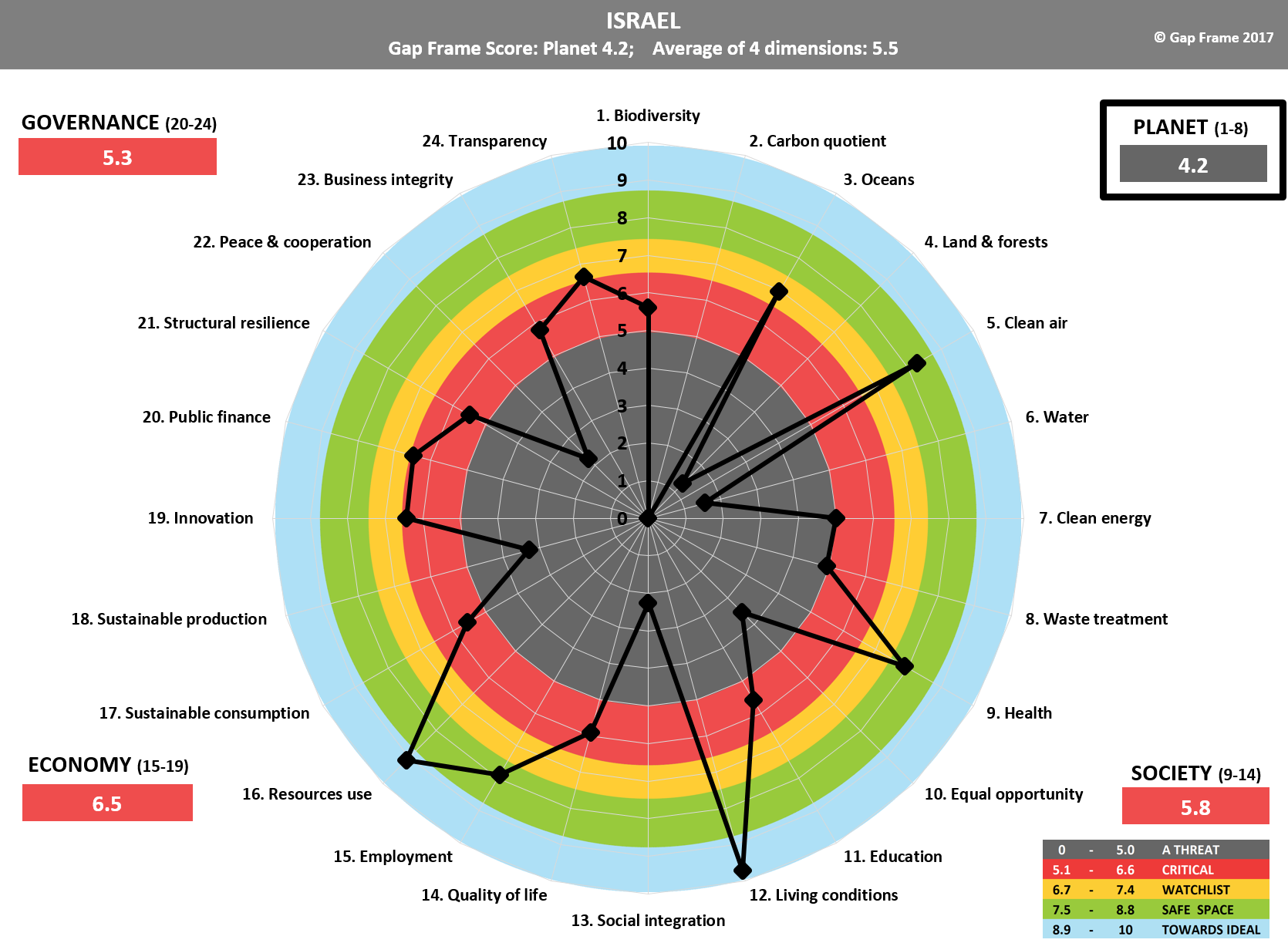 Source: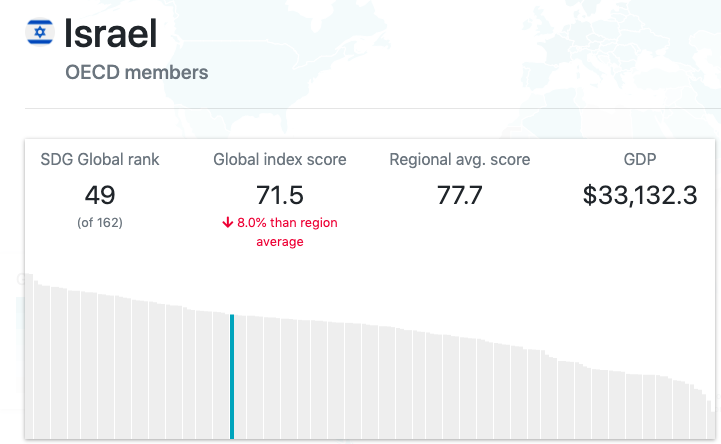 SDGIsrael Official Launch
SDGIsrael had the first convening in Israel around the SDG's. Our goal is to make Israel into the world's "Solution Provider" for the SDG's. This event was in cooperation with our friends at the SDG Compass.
Israel, the start-up nation, can create and accelerate solutions for the UN's Sustainable Development Goals.
Our first event SDGIsrael at the 2050 Environment Conference in Tel Aviv:
A short overview of SDGIsrael
Tal Ronen in conversation with Prof. Alon Tal about an overpopulated future in Israel:

Tal Ronen leading the Panel of the SDGIsrael: