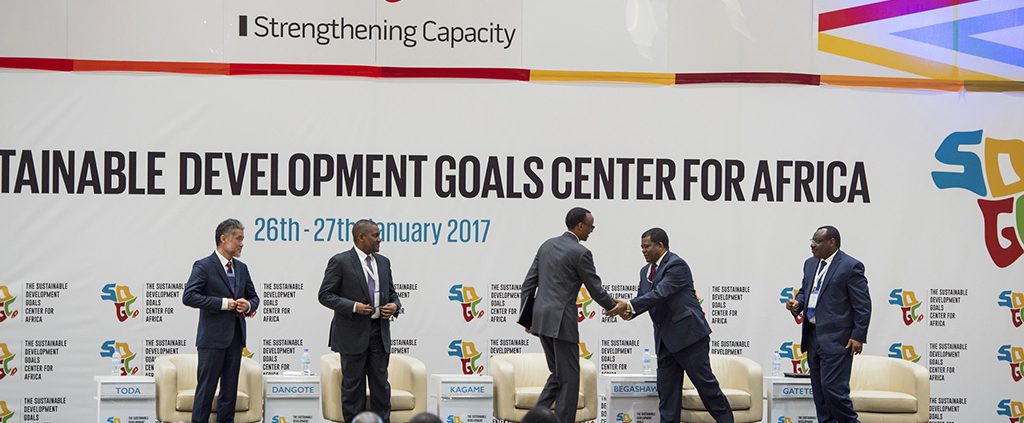 YK Center founders Prof. Yehuda Kahane and Mr. Tal Ronen traveled to Kigali, Rwanda for the official launch of The Sustainable Development Goals Center for Africa ("SDGC/A") on January 27 at a landmark inclusive conference convening around the subject of Expediting the Implementation of Africa's 2030 Agenda.
The SDGC/A (www.sdgcafrica.org) will provide technical support, advice and expertise to governments, private sector, civil society, and academic institutions to accelerate the implementation of the agenda across Africa in over 50 nations. Over 200 delegates from across Africa were in attendance.
Officiating at the launch, Rwandan President Paul Kagame informed participants of the results-driven mission of the SDGC/A:
"This center will serve as an important focal point for advocacy and coordination. But like the SDGs themselves, this institution is a tool to help us get what we really want, and that is results."
Echoed by SDGC/A Co-Chair Mr. Aliko Dangote and Director General of the Center Dr. Belay Begashaw, President Kagame called on participants to aggressively accelerate progress towards the SDGs through research, policy and technical work. "These global goals should not be seen as an external agenda, but as an integrated part of a country's development vision."
YK Center attended this historic event at the invitation of Aniket Shah, Advisor on Development Finance to SDGC/A (and YKC Subject Matter Expert), in order to offer the SDGC/A and its 54 member nations strategic and tactical support in achieving the UN's SDGs by 2030 and, further, to support the SDGC/A's efforts to achieve the goals of the African Union's Agenda 2063.
From the floor of the conference, Prof. Kahane presented his global call to action to the assembly, calling for collaboration between governments and the world's pension/insurance funds to develop and implement financial mechanisms that endogenize positive externalities to unleash the power of the market in order to bridge the SDG funding gap and finance critical impact investments. His words were enthusiastically received.
During and after the event, Prof. Yehuda and Mr. Ronen discussed strategic approaches to collaborative engagements with many of the distinguished guests, including: the Rwandan Minister of Finance & Economic Planning and Minister of Agriculture & Animal Resources; The Office of the President of Benin; senior representatives of NEPAD, AGRA, Fuel Freedom Foundation, USAID, Smart Africa; and many others.
In each case, Mr. Ronen presented his equally well received model for The TransFormNation™ Initiative, a development accelerator program designed to rapidly transform the mechanics of national conversation such that leadership—in collaboration with all critical stakeholders and subject matter experts—may address global-scale challenges with the energy, focus and urgency necessary to achieve quick alignment and to progress rapidly to the implementation of impactful solutions.
Our founders were humbled by the expressions of optimism and political will from all participants and emerged from the mission with a clear understanding of the pressing need for rapid acceleration of the SDGC/A charter and the substantive role YK Center can play. The entire YKC team looks forward with great enthusiasm to further developing deep relationships with these bold thought leaders and global game changers. We humbly offer our assistance in accelerating the Center's mission to secure Africa's rightful position in the global forum.
Mission Takeaways
Africa must find a way to bridge a US$300B funding gap annually in order to achieve the UN SDGs by 2030.
The immediate objective must be to support the SDGC/A in funding and implementing the opening of offices across Africa in their 54 member countries to ignite and support national conversations of rapid transformation. $5M per year is needed for the next 14 years to ensure optimal operation of the SDGC/A.
Africa is starting to be recognized as a tremendous economic force with great market opportunity after a period of impressive growth and accomplishments.
Homegrown institutions and solutions are the key to regional and local success.
"If we are to meet the SDGs, we need to share stories about what works and what doesn't, develop creative ways to finance projects that will aid in development, and combine our knowledge in order to multiply it." – Dr. Belay Begashaw
Time is of the essence. Africa needs acceleration. The time for TransFormNation is now.
Introducing the YK Call to Action
In this 6-minute video, Prof. Kahane explains the YK Call to Action and the 2 targets with 1 arrow approach:


Mission Photos
https://ykcenter.org/wp-content/uploads/2017/02/32429403051_8f7c0e649d_k.jpg
671
1024
Ilan Mandel
https://ykcenter.org/wp-content/uploads/2018/10/YK_center_logo-one-line.png
Ilan Mandel
2017-02-23 02:07:08
2017-03-03 17:15:15
YK Center Supports the Launch of the SDGC/A