New York Times reports:"Here's How Far the World Is From Meeting Its Climate Goals"
Two years after countries signed a landmark climate agreement in Paris, the world remains far off course from preventing drastic global warming in the decades ahead. On Monday, the latest round of post-Paris international climate talks begin in Bonn, Germany, to discuss how to step up efforts.
Under the Paris deal, each country put forward a proposal to curtail its greenhouse-gas emissions between now and 2030. But no major industrialized country is currently on track to fulfill its pledge, according to new data from the Climate Action Tracker. Not the European Union. Not Canada. Not Japan. And not the United States, which under President Trump is still planning to leave the Paris agreement by 2020.
Worse, even if governments do take further steps to meet their individual pledges, the world will still be on pace to warm well in excess of 2 degrees Celsius over preindustrial levels (3.6 degrees Fahrenheit), the threshold that world leaders vowed to avoid in Paris because they deemed it unacceptably risky.
"One year after the Paris Agreement entered into force, we still find ourselves in a situation where we are not doing nearly enough to save hundreds of millions of people from a miserable future," said Erik Solheim, head of the United Nations Environment Program.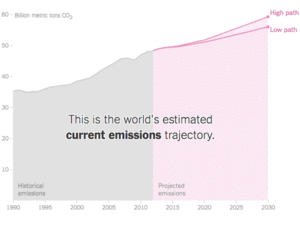 https://ykcenter.org/wp-content/uploads/2017/11/paris-pledge-tracker-2.jpg
847
1616
Yossi Behar
https://ykcenter.org/wp-content/uploads/2018/10/YK_center_logo-one-line.png
Yossi Behar
2017-11-07 08:55:02
2017-11-07 09:01:11
New York Times reports:"Here's How Far the World Is From Meeting Its Climate Goals"