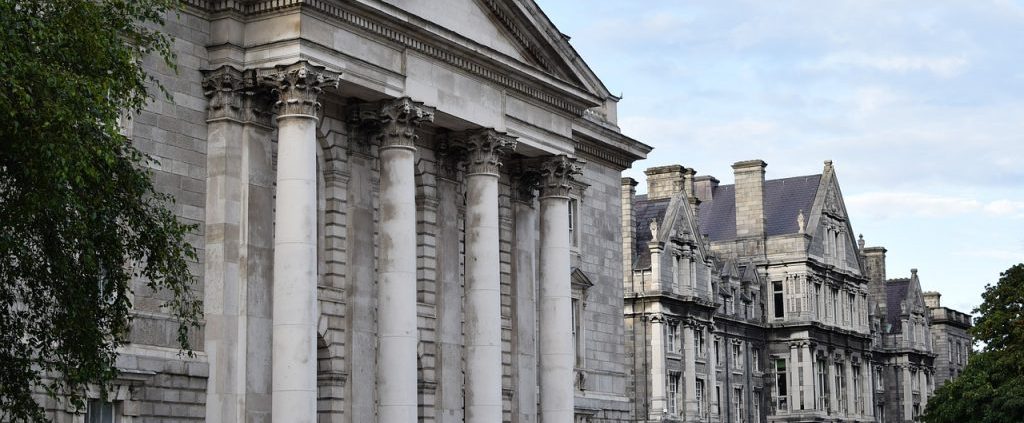 Irish Examiner: "Robinson says SDGs should be part of the education curriculum"
Former Irish president Mary Robinson has said sustainable development goals should form part of the school curriculum as a "holistic" approach is needed to combat climate change.
Mrs Robinson said: "I would like to see the sustainable development goals begin to be part of the curriculum here in Trinity and in the curriculum in schools so that we begin to make this part of our life in a lived way that really makes a difference."
She made the comments at the launch of Trinity College Dublin's Green Week.
The United Nations Sustainable Development Goals form the focus of this year's Green Week, which runs until February 22.
The goals include ending poverty, ending hunger, achieving gender equality, taking urgent action on climate change and ensuring responsible consumption and production.
Mrs Robinson described the goals as "very relevant to our world".
"The important point is the interconnection between the 17 sustainable development goals, that's their strength," she said.
"They don't portray gender equality as somehow separate from climate action or ocean pollution, or ocean pollution separate from consumption and production.
"The fact that the goals are indivisible and interrelated makes them very relevant to our world because we live in a complex world and we need a holistic approach."
She added that the goals need to be interpreted together with the climate change goals.
She said scientists had learned last year that there was a significant difference between the effects of 1.5 degrees of warming and 2 degrees of warming.
"The big difference is that between 1.5 degrees and 2 degrees things happen: coral reefs disappear, the arctic ice melts and the permafrost seriously melts and that means we will have blow-backs and climate changes of a significant sort.
"The scientists are telling us unequivocally that we have to stay at or below 1.5 degrees and if we happen to go above 1.5 degrees we have to suck that carbon out of the atmosphere and come back and stay at 1.5 degrees to have a liveable world," she said.
"So we have to live sustainably."
Senator David Norris detailed the highlights of the week-long celebration, while a cappella ensemble Trinitones sang on the steps of the Public Theatre in the college's front square.
For the full article click here
https://ykcenter.org/wp-content/uploads/2019/02/trinity-college-2539751_1280-1024x682.jpg
682
1024
Yossi Behar
https://ykcenter.org/wp-content/uploads/2018/10/YK_center_logo-one-line.png
Yossi Behar
2019-02-20 13:31:32
2019-09-14 18:57:45
Irish Examiner: "Robinson says SDGs should be part of the education curriculum"